NTEN's Hybrid Event at the Colorado Convention Center
The Nonprofit Technology Enterprise Network (NTEN) hosts the Nonprofit Technology Conference (NTC) annually. Over 1,200 people attended to learn about nonprofit technology practices and connect with a community dedicated to social change. This year, their hybrid event was held at the Colorado Convention Center.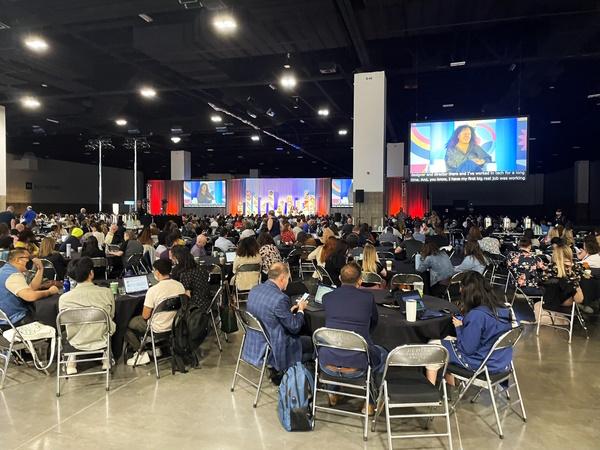 FAST FACTS
• 1,200+ attendees
• General Session designed in Expo Hall
• Live streaming and recording - plus remote presenters - in General Session and key Breakouts
• Extra attention to inclusivity in the event strategy
• Stepped in to handle stage design at the 11th hour after another vendor was unable to follow through
A Customer-Focused AV Solution
The Answer to Every Question
We believe one of our biggest differentiators is the ability to consistently deliver premium customer service. This looks a little different for each event based on what our client needs, but one thing we do for every event is be the answer to any question you have.
Our Project Manager Jenn became the point of contact for everyone and everything. She even helped the NTEN team answer questions vendors had about the venue and event timeline.
With lots of smiles, hugs, and happy tears after the event, we know we helped take a lot of pressure off the NTEN team, especially for their first time in the CCC. NTEN also had a staff member on headset with us, and we were proud when they shared that we were the most respectful audio visual company they've ever worked with.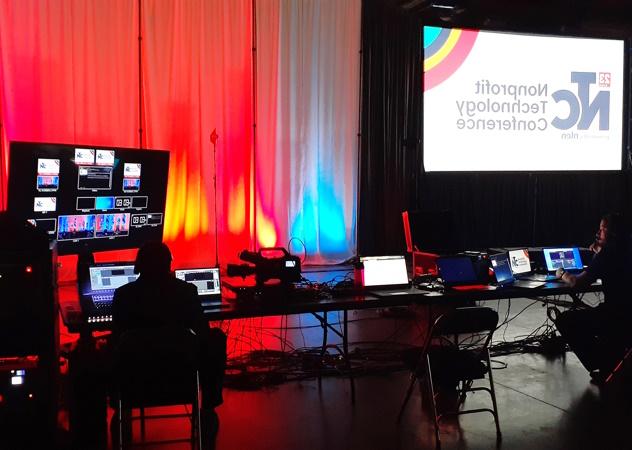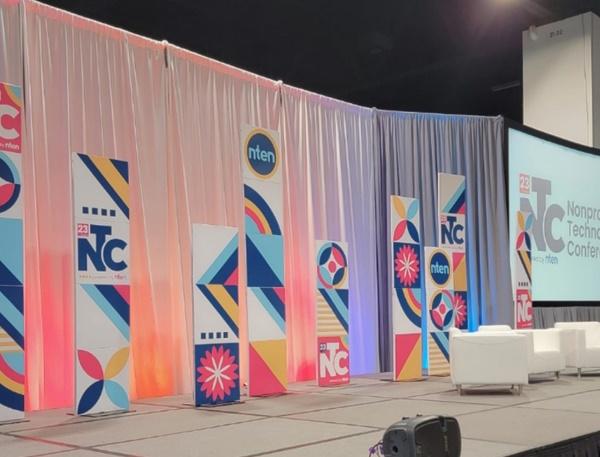 Set Design Heroes
The Friday before the event week, we received a call from NTEN. The original vendor providing the scenic design elements fell through - they were only going to be able to deliver a fraction of the pieces originally requested. We got to work doing what we do best: finding good solutions quickly.
In a four-hour period, we produced a new set design render, got client approval, handled the custom artwork design, and had it sent to the printer.
Our Friday morning fire was extinguished by lunch!
We ended up using Modular Backdrops Ice Wall panels with custom event branding. And when paired with lighting, we were able to constantly change the feel of the stage.
Designing with Inclusivity in Mind
A key tenant of NTEN is equity across our community, celebrating diversity and inclusion with intention. We saw this value play out in the event design through inclusive-friendly measures. There were no big staging elements making the stage ADA-friendly.
Tables were left with no chairs to accommodate any wheelchairs. And the sessions held on the main stage had closed captioning for both the remote and in-person audience.
It was special to work with a team who prioritized the participation and comfortability of all attendees!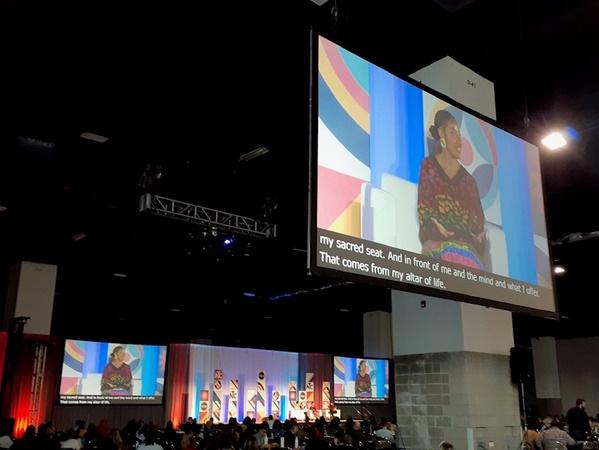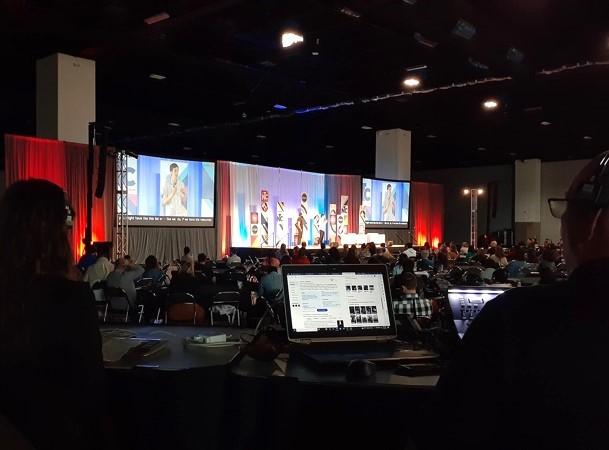 The Hybrid Details
Held over 3 days, NTEN had over 1,200 in-person attendees. The General Session was held in the Expo Hall making sure their exhibitors had a lot of facetime.
The General Session and 2 of the 14 breakout rooms were optimized for recording and live streaming. There were a few virtual presenters in those rooms who were streamed in, too.
The Exhibit Hall had two demonstration stages, we provided AV equipment and tech support for Exhibitors, and set up audio throughout the lobby areas.
Making Hybrid Event Planning Simple
Are you planning a hybrid event? Lean on our in-house av services and experience for an efficient and smooth planning process.
Choose a trusted partner to reduce the stress that comes with trying to manage too many moving pieces. Working with just one audio visual company streamlines the communication, saves you time and money, and makes planning hybrid events so much easier!