A conference monitor has the power to add so much to your event. Each display can be used for information, branding, and entertainment in an engaging way. A conference monitor is extremely versatile; content can change constantly. And they can be placed in almost any location that has access to a power outlet. They won't add greatly to your AV budget, so you'll get a lot of value.
Here's five ways you can incorporate a conference monitor into your events.
1. Integrate a Conference Monitor Into Your Set Design
Don't be afraid to put a monitor on stage! Have sections of your scenic backdrop reveal monitors and place presenter, sponsor, and branding graphics on them.
Here's an example of what we did for GSA's 2022 live event production. We used four iPosters, which are a form of LED TVs. We placed these strategically between the stage design elements and created custom graphics that fit their event branding. If you did something similar, you could have speaker names move on the screens as they're being introduced.
It's a great, cost-effective way for your set design to capture attention and encourage audience engagement.
2. Use Video Display as Décor
Bringing a conference monitor into a typically open area like registration, hallways, and networking areas brings excitement and movement to your event.
Usually, event venues will provide some directional signage but depending on the size and space of your event, it may be worth having more. Bring in 50" TV kiosks to the registration area to post important information, schedules, directions, and event locations.
Use your displays for additional sponsor exposure. Consider adding sponsor video ads during high traffic times to your sponsor packages. And if you have a charitable arm or want to reconnect attendees to the mission of your Association, this is a great way to promote that recognition and emotional response.
And even if you just use the displays for event branding, it adds a level of cohesiveness to the rest of the event areas like your breakouts, general session room, and exhibit halls.
3. Upgrade to a Video Podium
Don't settle for a static sign in front of your podium. Say more with video!
Almost all our shows include video podiums. They don't add much to your budget, but they do add a lot to your stage.
You can use event branding and animated graphics between sessions, and highlight speaker names, titles, and company logos during presentations.
4. Meet Your Newest Speaker
Remote Presenter Solutions
Expand your presenter pool by using a conference monitor to bring remote speakers on stage. This no longer limits you to in-person speakers, giving you more opportunity to find high-profile and relevant presenters no matter where they are.
This solution works best for panels or in a one-on-one with a moderator. In a panel setting, you'll need a skilled moderator who can work in the remote presenter seamlessly with the rest of the group.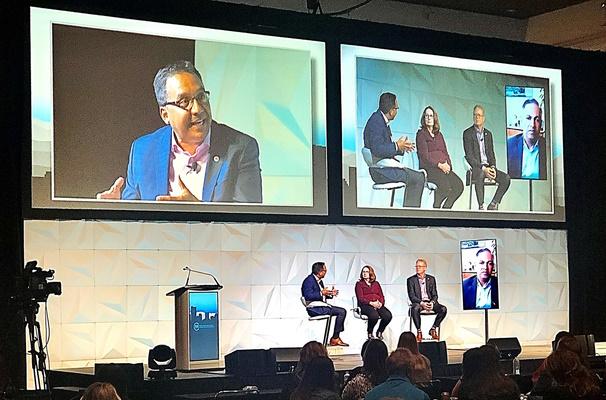 5. Skip the Projector in Breakouts
If your breakout rooms are smaller, consider using a large conference monitor in place of a screen and projector. You'll save some money on equipment and it's just as clear as a projector and screen.
If you have around 50 people or less – and depending on the room layout – you could get away with a single 75" monitor. If you have more than that or a more spread-out room, consider using multiple monitors strategically placed around the room.
Additionally, monitors have the benefit of being used in full room light. If you're in a room that doesn't have the ability to control sunlight or dim lights appropriately for a projector, switch it for a monitor.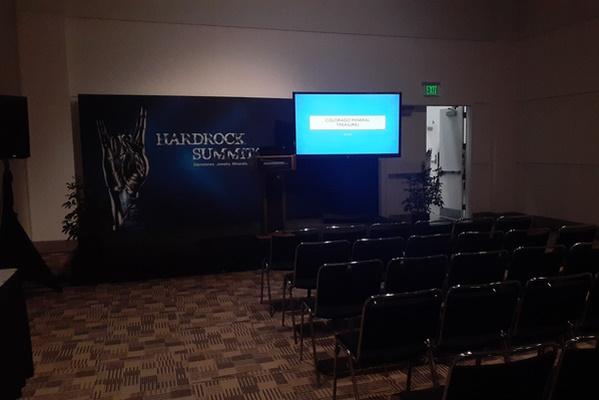 Get Creative with Your Conference Monitor
Using monitors at your events is a cost-effective and visually powerful way to display information. It's a perfect platform for capturing attention, a great canvas for custom event graphics, and makes your event more high-tech.
If you'd looking for a new audio visual company to take your event to the next level, reach out to us to see what event ideas we can bring to you!