Conferences and events typically have one major thing in common – the need to convey information, education, and ideas to their audience. This typically requires the use of projection or LED screens to allow content and presentations to be easily seen.
But which screen size is right for my audience? The main considerations are viewing distance, ceiling height, content type, and projector brightness, resolution, and type.
Minimum and Maximum Viewing Distance
Your first row of seating should be no closer in feet than the width of the screen. With a 12'x20' screen size, that puts your first row of seating at 20' from the screen to ensure a comfortable viewing distance.
Your last row of seating should be no more than 8 times the screen height, depending on content. For the same 12' x 20' screen, that puts the last row just under 100' from the screen.
If, however, the on-screen content is primarily presentation slides crammed with small text – the maximum viewing distance could be as little as 50' from the screen.
Seating for Large Screens
One of the latest event trends we're seeing is the use of extra large screens for maximum stage impact. For the Connect (X) 2023 conference, they had a screen size of 20' x 60'.
I know what you're thinking: did you really start the first row of seating 60' away from the stage?! When you're working with a blended widescreen, the viewing distance rule is a little different because you'll rarely show full-screen content.
Most often, it's two or more PIP (picture-in-picture) windows on a branded background. For Connect (X) content and I-MAG, we had two 20' wide PIPs across the 60' wide screen. We used the PIP screen size to dictate the minimum and maximum viewing distances.
Ceiling Height
Confirm the clear height of the ceiling in your space to ensure the needed screen size will fit. Add 3' to 5' of height for the screen legs to the screen height. That 12' x 20' screen will need a clear height of 17' to fit!
Do not take the listed ceiling heights from capacity charts or floorplans from the venue at face-value. Listed ceiling heights might not consider chandeliers and soffits that can drastically reduce the available ceiling heights. Make sure your audio visual company thoroughly checks this during your site visit.
Content Type
If the content that is shown on the screen is video, or Image Magnification (IMAG) from a video camera in the room, your audience will have no issues seeing that content.
If presentation slides are shown, comfortable viewability can get a bit tricky. Some presenters cram too much information on each slide, resulting in small font sizes that are hard to read. Others experiment with non-standard fonts and background colors that make for difficult viewing.
Go For A High Contrast
If you want to use a light background for your slides, use a dark font – or use a light font color with a dark background. As for color, look at a color wheel and choose colors opposite from each other for your background and font colors.
Think of maintaining a high contrast level between the background and font colors and keep things simple and easy to view for your audience. There's a good reason that there are so many presentations with blue backgrounds and yellow or white font colors – they are comfortable and easy to view!
Try to keep text slides at 3 bullet points per slide and go easy on animations and transitions.
Finally, you should spend no more than 1 slide per minute of your presentation.
Consider building a set of guidelines around font sizes and colors, presentation styles, etc. that best fits your screen size. Your audience will appreciate the consistency and be able to accurately view all the presentations.
And don't be afraid to ask speakers to revise their slides if you anticipate their presentation will be difficult to view.
The Right Projector for the Right Screen Size
The current gold-standard for large-venue projectors is in a 12,000 to 30,000 lumen brightness, laser-light source, 3-DLP imaging-chip projector with 1920 x 1200 (WUXGA) or 3840 x 2160 (4K) resolution. These models offer the most precise color rendition, the best contrast ratios and are purpose-built for large-venue use.
3-LCD laser-light source projectors also perform quite well and are a bit easier on your budget.
A rough rule of thumb for brightness to screen size is:
5'-'10' wide screen = 4,000-6,000 lumens
10'-12' wide = 6,000-8,000 lumens
12'-16' wide = 8,000-12,000 lumens
16'-20' wide = 12,000-20,000 lumens
20'-30' wide = stacked 12,000 or 20,000 lumens or 30,000 lumens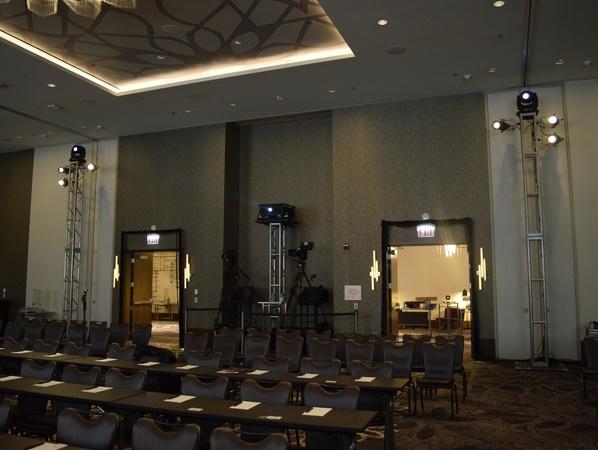 Keep in mind that other factors (such as ambient room light) can necessitate an upgrade in projector brightness for a given screen size.
Find the Right Fit For Your Meeting
There's a lot more factors than budget when finding the right screen size for your event. It needs to meet the needs of your audience based on the content you expect and also fit the venue's room.
The right screen size will dictate your overall set design, so this is something your production team discusses early.
If you'd looking for a new audio visual company to take your event to the next level, reach out to us to see what event ideas we can bring to you!