1. What Is Projection Mapping?
Video projection mapping is an exciting technique that allows us to turn almost any surface into a dynamic canvas for video projection.
Specialized software is used to warp and mask the projected image to make it fit perfectly on irregularly shaped surfaces, such as sides of buildings, large walls or other features you might find within a convention center or hotel ballroom. When done right, the result is a dynamic projection experience that transcends an ordinary live event.
2. Why Is Projection Mapping A Trending Event Technology?
Projection mapping has considerable appeal for all different types of companies and clients because it allows for a completely unique presentation at a cost-effective price.
With advances in mapping technologies, the cost for projection mapping continues to decrease and is now within the budget range for mid-level productions.
Projection mapping provides a larger-than-life experience, continually engaging an audience throughout the entirety of an event. It ties together an event theme, adds to branding, and enhances advertising.
It is superior to a traditional set design, making the event seem more sophisticated, more technically advanced, and more entertaining.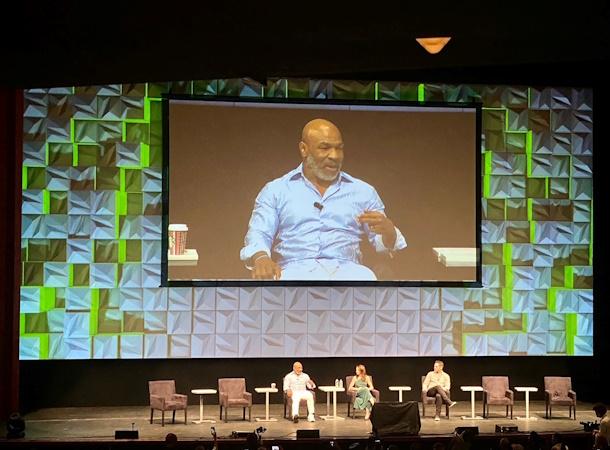 3. Projection Mapping + Modular Backdrops
The easiest and most cost-effective way to use projection mapping at your events is with a stage designed with Modular Backdrops panels. Both the Stealth Wall and Orb Wall panels can be "mapped" onto with content.
The visual content can be customized to tell your organization's brand story, create a theme, or attract attention. With projection mapping, you can create a stunning interactive award presentation, dynamic corporate opening, or product launch that will leave your audience in awe.
Modular Backdrops are matte-white, lightweight ABS plastic 3D panels that offer a high-impact design solution on their own! They create a stage set with texture and dimension, they look fantastic with different lighting techniques, and they are simple and easy to set-up.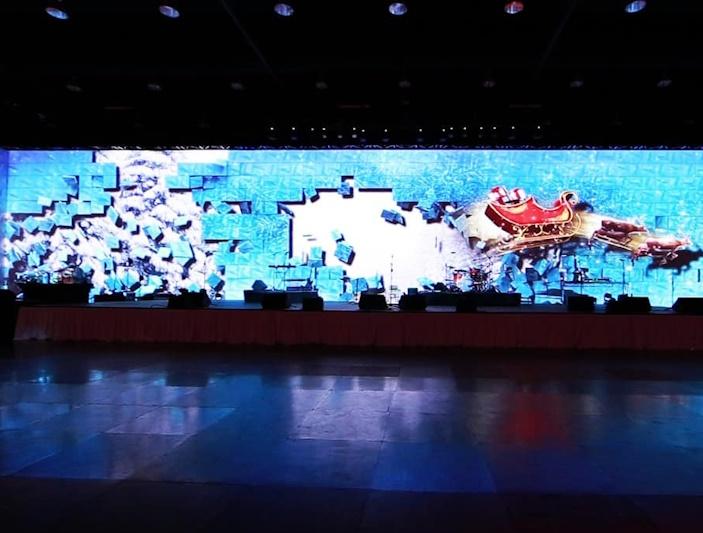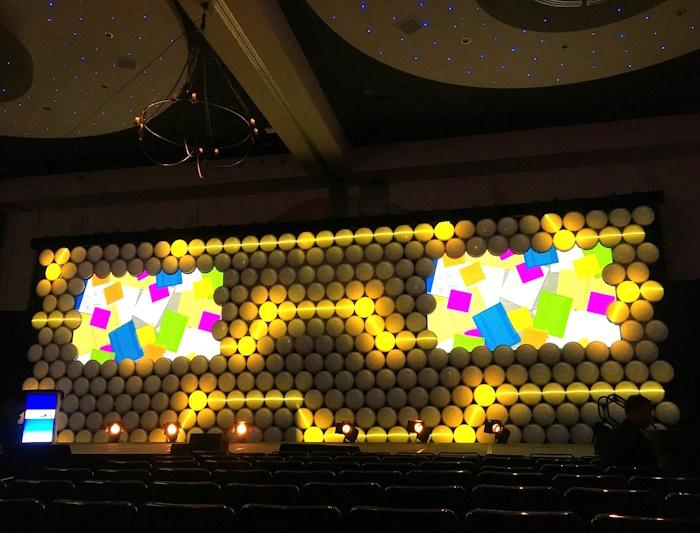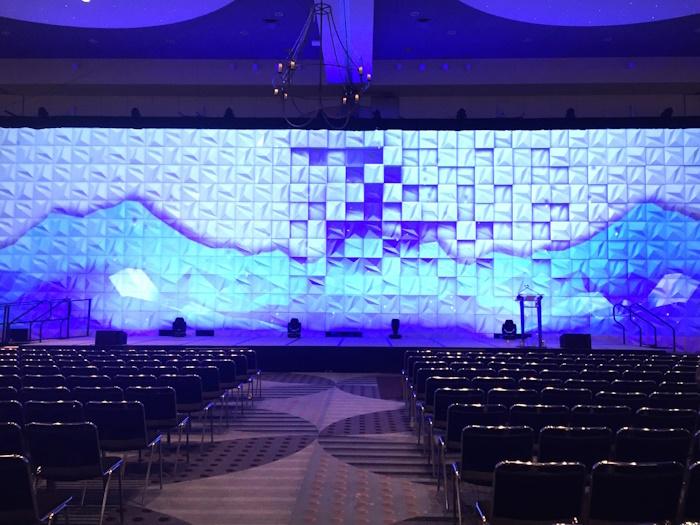 4. What is Augmented 3D Projection Mapping?
Augmented 3D projection mapping uses Stealth™ or Orb ™ Wall panels to create an intriguing illusion that a static wall or object is moving, breaking, or being manipulated.
We want the audience to realize it's a static, physical surface, but the videos and animated artwork being projected onto the canvas creates the impression of an optical illusion.
3D projection mapping can have a shark bite through the wall or have the wall crumble as a space ship launches. It's an incredible use of technology that you truly have to see to believe. And we guarantee it'll be something your audience won't stop talking about!
5. What Does Projection Mapping Cost?
The cost of projection mapping varies depending on a variety of factors, including the size of the space, complexity of content messages to be created, and access to the venue along with the duration of the installation.
We have an extensive library of artfully curated content already available and ready to be projection mapped, which greatly reduces your costs.
6. What Are Other Ways to Use Projection Mapping At My Event?
Play a "welcome video" on an exterior wall
One way to make a great first impression is to use video projection mapping to play a welcome video on one of the exterior walls where your guests will enter the building. The video can be something simple -- such as an animated logo or message -- or you can develop a more detailed introduction video for guests to watch as they enter.
When developing a video to play on the exterior wall, try to incorporate any unique shapes or characteristics of the building into the video itself. This will add to an already attention-grabbing effect.
Highlight unique or interesting interior architecture
Is there an interesting sculpture or architectural quirk inside the building? Highlight it with a vibrant 3D projection! Adding colorful flair to elements in the building is a great way to spruce up and leverage the event space without buying or renting expensive decorations or artwork.
Use 3D projection instead of decorations
If there aren't any interesting sculptures or architecture inside the building (and even if there are), you can still use 3D projection mapping as a portable alternative to bringing your own art and decorations. In general, 3D projection equipment will take up less space than a full room of decorations, and you can alter the projections for each event on the schedule.
Spruce up the ceiling
Whether the ceiling is a boring color or has an interesting architectural design, adding projection mapping can be a great way to distinguish the room and more fully incorporate any thematic elements you've decided to use for your event.
An alternative to a projector screen
One advantage of 3D projection mapping is that it is designed for almost any type of surface. This means it can be used in lieu of a regular white projection screen during general sessions, keynote speakers, or any other time a speaker is on stage. Using projection mapping eliminates the need for a projection screen, which means the stage will have a larger and more open feel to it, and could even give the speaker more room to move around. In addition to those benefits, projection mapping typically allows for a much larger screen area, which means you can have a larger number of images or text visible to the audience at the same time.
Ready to Turn Heads?
Projection mapping is an event solution worth exploring. We work with groups all the time to fit this trending technology into their budget. By taking advantage of our content library, designing a cost-effective stage, and working together to find cost reductions in the rest of your AV needs, projection mapping is in your reach!
Talk to our team of specialists to get started on designing your new, beautiful stage.