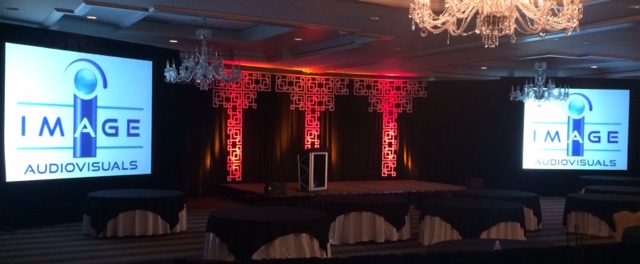 There are so many things to think about when planning a big event. From managing the attendee list to making sure all partnerships and sponsors follow through on their commitments, a successful live event production requires lots of moving parts to work together.
One of the most important aspects of a successful event is also one of the most overlooked. When an audio visual team does their job correctly, event attendees might not even notice. However, when an AV team fails to do their job properly, it can be disastrous.
Hiring the right AV company means you can focus on the many other aspects of your event with the knowledge the technical production elements are being handled by experts.
So, how do you make sure your production company has the right av services and experience to get the job done right?
Keep the following five things in top of mind as you go through the selection process.
1. People Make a Difference
When hiring an AV company, it's important to find out exactly who you will be working with. Are they willing to work with you to create the vision you have for your event? Are they responsive to your questions and concerns, and does it feel like a collaborative environment?
When choosing an AV company, don't focus solely on their pricing or services, rather focus on the people and your relationship with them. Make sure you feel comfortable and trust your instincts. AV support at your event is more about trust and relationships than you might think.
2. Experience Prevents Mistakes
Trial and error is not the strategy you want when your keynote speaker is taking the stage. By hiring an experienced AV company, you benefit from years of facing and handling every complication and "unforeseen" development that might occur. An experienced team can be proactive about potential problems and prevent them from happening in the first place.
Make sure you choose an AV company that is well-versed in the specific type of project you are hiring them for. Don't be afraid to ask detailed questions to ensure you're really hiring the best team for the job.
3. Creative Ideas Bring an Event to Life
AV production is undoubtedly a technical endeavor. However, the best AV teams must have a strong creative streak as well. From innovative customized set designs to lighting productions that highlight key moments in your event, a creative AV team is the difference between a successful event and a truly memorable one. Make sure your AV team is bringing new ideas to the table, and is up to date on the latest innovations and approaches.
4. Project Management Keeps the Show on Track
It's important to set objectives and expectations with your AV company right from the outset. Let them know which elements are required, which are desired, and your total budget. Agree to the terms at the beginning, and set clear and easily defined milestones in the leadup to your event.
An experienced AV team will let you know whether your expectations are realistic and feasible, or if your expectations need to be revised to ensure the event goes as planned. Project management is the glue that holds everything together and results in a stellar event people will remember.
5. Event Debriefs Ensure Future Events are Even Better
One of the most valuable points of an event is after the event is over. A debrief with your AV team can produce incredibly valuable insights about what went well and what needed improvement. By spending some time getting everyone on the same page after the event, you help develop a lasting and mutually-beneficial relationship with your AV company.
ImageAV is a nationally recognized AV company with nearly three decades of experience helping customers run successful and memorable events. Contact ImageAV today to find out what it's like to work with a professional and experienced AV team.