We love writing about upcoming trends based on what we've seen, and this year is no different! Our 2023 event trends are the latest in live production and technology that will influence a year of set design and production services.
Take a look at the top four things we expect to make a big impact.
1. Solve For Industry-Wide Staffing Shortages
It felt like a perfect storm of variables came together to create the staffing shortages we're seeing across the event industry. According to the American Hotel & Lodging Association, 9 out of 10 hotels are reporting short-staffed numbers. But it's not just hotels; restaurants, production companies, and even meeting planners are struggling to fill vacancies. This has had a ripple effect on all parts of the planning process, from higher costs to shorter lead times.
Combat These Shortages with Multi-Year Contracts
In the AMEX 2023 Global Meetings and Events Forecast, their panel of event experts stressed that "strong supplier relationships are more important than ever" to help overcome these shortages and subsequent supply chain issues. When you find an event partner that you like and trust, consider signing a long-term agreement.
When our clients have elected to sign for multiple years, we're able to make sure their needs are secured well in advance. We can start the planning process earlier, begin to solidify top-notch labor, and be proactive on working with our clients to reduce costs wherever they can. In short, we can anticipate effectively and plan accordingly!
2. Bigger Event Budgets for Bigger Event Engagement
We're all feeling events coming back in a big way and are quickly on pace to surpass 2019 levels. AMEX reports that 75% of companies predict their meeting spend to increase. Some of this is a natural rise to meet the increasing costs of events. But it's also a change in the way our attendees are approaching events. Now, it's unique and engaging experiences that are ultimately driving registrations. This includes everything from entertainment, off-property excursions, and interactive F&B experiences.
Up the production level with these technologies
Part of that experience comes from the creative use of technology throughout your event. Here's a few ways you can use production to be a part of the elevated experience.
Projection Mapping
Projection mapping is next-level technology that will captivate any audience. It's a visually stimulating, immersive experience that you truly have to see to believe. Perfect for large stage sets and high-profile events, it helps tell your event story and engages attendees.
Projection mapping can employ many different surfaces as the "canvas" to project on, but we find the most energizing and value-added method is to map on our stage design panels, Modular Backdrops. These panels are amazing just as a stage backdrop, but Projection Mapping on them raises the bar to a level not seen by many.
By incorporating laser-measured 3D panel objects into the mapped content on a 1:1 ratio with the actual panels in the space, we can achieve fantastic results with bring the wall to life to create energy, support your messaging and capturing your audience's attention. See more examples of projection mapping.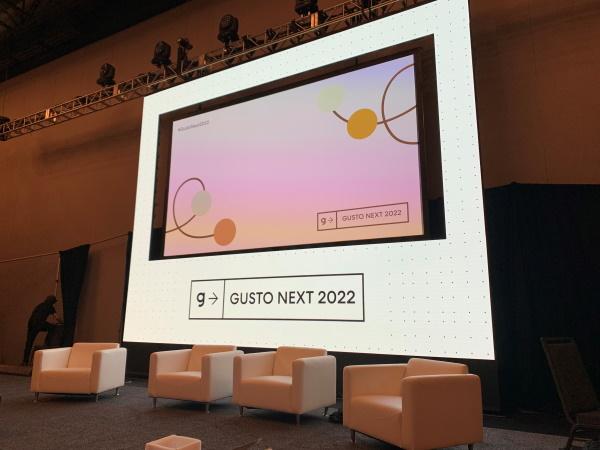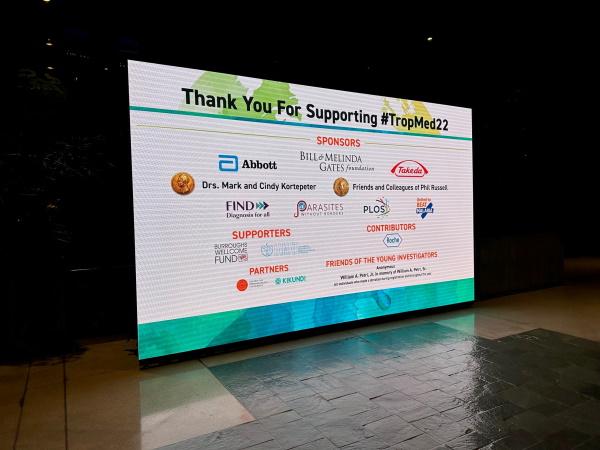 LED Walls
LED Walls are one of the hottest technologies in the audio visual landscape right now. They're versatile in set up and have a variety of uses.
You can use a LED Wall as a backdrop for your stage, creating imaginative and detailed backgrounds for your presenters. Utilize a free-standing LED Wall by your registration area to highlight event information and top sponsors – make it a digital bulletin board illuminating important points to your attendees.
Once a luxury solution, the LED technology has become higher resolution, more readily available, and at lower prices to become attainable for events of all sizes.
It's worth getting a quote to see what this incredible display can do for you!
Mini Studios
While we've used these at many events this year, we expect this 2023 event trend to pick up in popularity.  We are creating on-site mini studios for our clients, complete with cameras, lighting, recording and event or sponsor-branded backgrounds. This creates a new way for your audience to participate in your event.
These studio pods can be used for short interviews with attendees, a podcast recording with presenters, or even for an onsite emcee for your virtual audience.
It's a simple, sleek, and effective way to encourage audience participation. It also looks incredibly professional and creates content for you to use in multiple ways. Consider having your production company provide an on-site studio and edit together daily recaps to use for future marketing.
3. A New Look At Hybrid
Hybrid was our industry's 2021 word of the year. We all learned the struggles, solutions, and nuances of pulling off a successful hybrid event. This year, we found a lot of planners were stuck trying to find the best way to execute the meeting format in a cost effective way while still encouraging people to attend in person.
For most, audiences have come to expect a hybrid option so it's difficult to forfeit this format entirely. But there's no denying the additional costs, vendors, and stress that come with hybrid, too.
Embrace Hybrid Lite
So for those clients who need a hybrid component, we've been recommending what we call "Hybrid Lite". Here, only general sessions and a maybe a handful of breakouts are live streamed to a virtual platform. The rest are recorded in a cost-effective way for later upload to a platform for on-demand viewing.
This method still provides the benefits of a hybrid event – educating a larger audience. You just now get to do it with lower internet costs and create a revenue generator with on-demand sales to the members of your group that don't attend in-person.
With limited sessions available streamed live, attending in person is much more enticing. This helps you fulfill F&B minimums and room blocks, while fostering an inclusive initiative to provide educational content to everyone in your organization.
4. Differentiate Through Set Design
Capturing and retaining audience focus can be a chore. So many meetings look the same, are structured the same and feel the same.
Think outside the box and use creative ways to create a fresh look that creates an energetic buzz for your audience.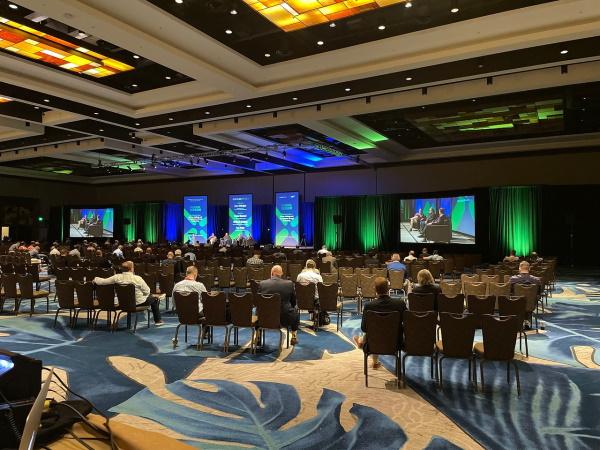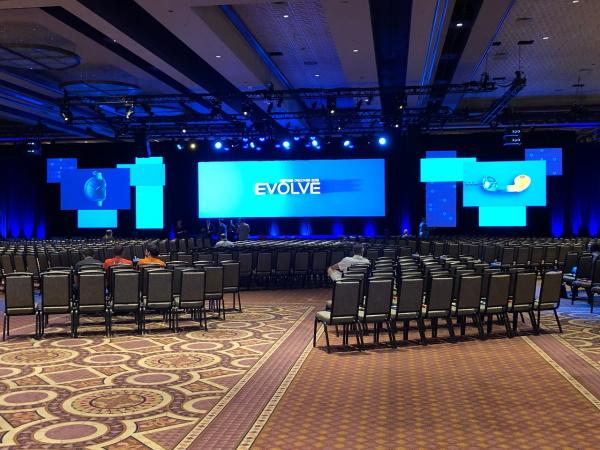 Did You Try Turning It?
In larger rooms with multiple screens, orient a couple of them vertically.
It's a fairly new concept and can be very effective for Image Magnification or used for graphics and branding purposes. Today's large-venue projectors, illuminated by laser light, can be oriented in any position.
Build vertical screens into your stage backdrop design or have your backdrop scenic reveal sections of screens to place branding or presenter information on.
Instead of an event logo banner at the back of the stage, use a screen or other surface to project or map animated logos onto.
Stretch It Out
We are loving the extra large screens because it's a huge canvas to place multiple video images, graphics, and logos on it at the same time. And you'll achieve maximum impact when you go full screen with one source.
When using these screens, we prefer to use rear screen projection blending. We think it's much cleaner having all the tech behind the scenes, but front-projection will work here, too!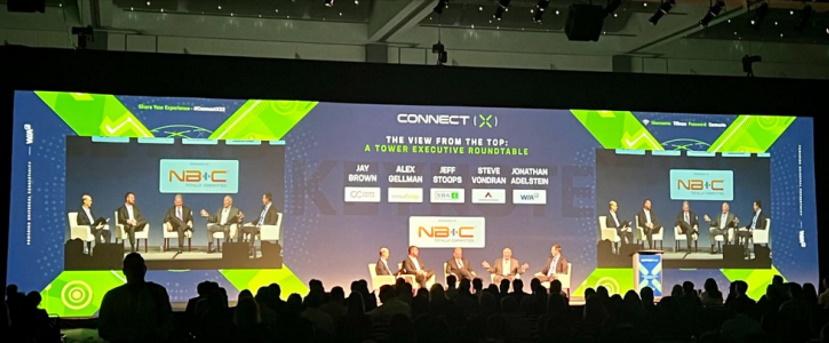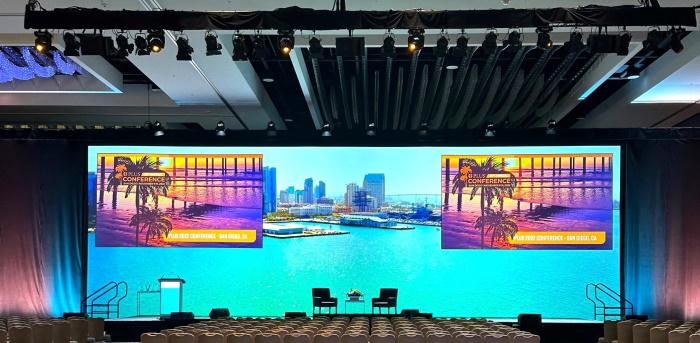 Be Bold in 2023
We challenge you to find creative, bold solutions for your events and stage designs. Choose partners who bring their best ideas and exceed your expectations. Focus on unique content and creating a community. We hope our 2023 event trends can give you some inspiration to reach for something new!
We'd love to be your trusted audio visual partner - we welcome the opportunity to collaborate on delivering an unforgettable experience.
Image Audiovisuals is a nationwide production partner for live, hybrid, and virtual events. We strive to be a partner in solving problems, reducing your stress, and having some fun along the way!