Groups realized the power of creating and recording on demand content during the pandemic. Now that we are back to meeting in-person, the advantages of creating content have not changed. The ability to monetize and extend the reach of the event through content creation gives many meeting planners and stakeholders more power to educate, inform and energize their audiences.
The Next Strategic Tool for Event Planners
As the event landscape continues to shift and evolve from the pandemic, we are witnessing the re-emergence of on-demand content. On-demand has many benefits to event formats and budgets, including lower AV costs and a greater registration ROI. Plus, your virtual audience has the freedom to watch content at a time that fits their schedule. We'll explore each of these components and how to apply them to your next event.
1. It Lowers Production Costs vs. Traditional Live Streaming
In the hybrid frenzy of 2021, the default option was to stream all the event content live. When the audience was more evenly split between in-person and online, incurring this cost made sense. It was the best way to keep everyone connected with the tools and rules we had.
Now, as budgets are being reallocated to focus on delivering enhanced event experiences, the money for live streaming the entire conference isn't always there, or it doesn't make sense based on the number of virtual attendees you have.
It's expensive to live stream every room, and it's wholly dependent on the quality of the internet at the venue, which can be a risky option. Having your content pre-recorded to play back live during the event, or for on demand playback after the event, lowers the production costs. You save on equipment, streaming engineers, and internet charges.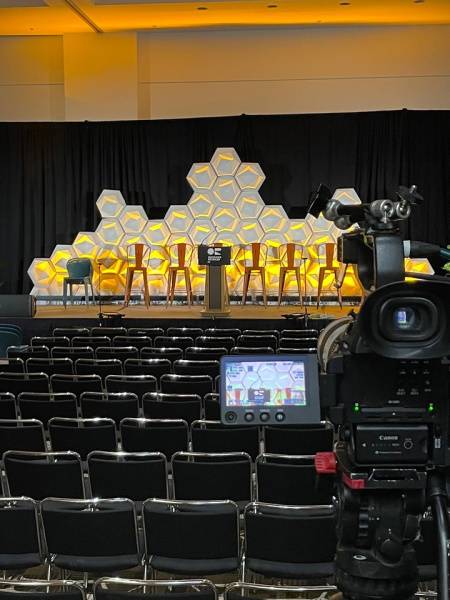 Add On Demand Recordings to Your Next Event
Start working with your production team early on the recording process. Ideally, they should partner with you to develop your on demand recording strategy, including the e-commerce and marketing portions.
Decide if it makes sense for your event to record everything, record only a portion, record any pre- or post-event meetings, and if you plan on streaming any sessions.
Your production company should help you come up with projected revenue numbers, which should hopefully offset the recording costs. If you're interested in having a branded site available for attendees to watch the recorded content see if this is something your production company offers as well.
Make it a part of your next AV RFP
Add in recording and streaming questions to your AV RFPs. Even if it's not something you're sure you want to use, it'll be helpful to fully understand each company's capabilities as you think through your event strategy.
The ability to record, edit, and host the content, including the e-commerce portion, will make it a seamless solution.
2. It's An Additional Revenue Stream
The long-term benefit of on demand recording is its ability to repackage and sell content. We think on demand is somewhat of a no-brainer because you've already done all the work to source and host the content. It makes sense that you should continue to monetize it where you can.
Having your event content on demand is applicable for all your attendees:
If you run concurrent breakout sessions, your in-person audience gets a chance to see what they missed.
Online content is great for people who may not have the budget to attend in person, are deciding if they want to attend next year in person, or have outside obligations during the scheduled meeting.
Don't forget about your event sponsors
When your sponsors sponsor a session in-person, they'll also be sponsoring the online session. This is going to help them reach a much wider audience. And the content is typically available for a year or more, instead of just one place and time.
If you're choosing to use a custom branded site, there's often additional options for sponsor logos, videos, and messages. Include these benefits as part of your sponsorship packages.
Monetize Your Content
Take a look at your entire schedule and decide how it might be best to break up your content, if at all. Some groups will create content packages around conference days or tracks (all of the content that falls under a specific topic).
We've seen great success when you can allow members to purchase content that fits their budget and needs.
Work on the pricing strategy with your AV team
A popular option is to increase the cost of the in-person registration fee and include all the recordings, then have all virtual attendees pay for the sessions online.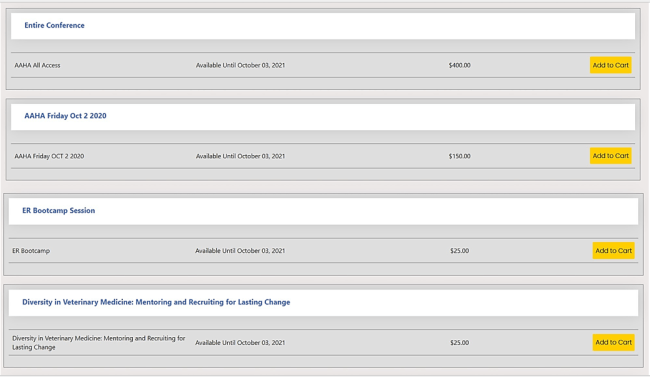 You can also create pricing tiers for things like members, non-members, students, sponsors, etc. Same goes for sponsors – you can include the online component in your standard packages or make it an a la carte item available.
Capture analytics
Pay close attention to what sessions are being purchased and watched. This is valuable intel to see what content your members are most interested in seeing. Use what you've learned to drive event content for webinars and future conferences.
3. Use On Demand Recordings to Encourage In-Person Attendance
We're seeing the growth of what we like to call "hybrid lite" where general sessions and select breakout sessions are streamed live and the rest are recorded. There's an obvious cost-saving component to this method.
But it's being chosen to help drive in-person attendance, where planners are focused on creating unique and engaging experiences. From that perspective, the only way to truly experience the conference – and all its content – is to be there.
This method isn't meant to penalize people who cannot attend or prefer an online format. Many planners are still working off pre-pandemic venue contracts that dictate certain attendance and cost numbers.
The hybrid lite model has helped boost in-person attendance while still reaching the virtual audience through on demand recordings.
Add Hybrid Lite to Your Next Event
Think through your most popular sessions. Usually this will be your keynotes, powerhouse panels, fireside chats, and the most newsworthy topics. And they should also be your most exciting – what do you want your online audience to see to make them want to come in person next year?
Depending on the size of your agenda, this could be anywhere from 5 to 15 sessions. You'll choose these to stream live to your remote audience.
We've seen planners go directly to platforms like YouTube or Facebook, or have a custom-branded page to view the streamed sessions. The rest of the content will be recorded and available to watch on demand in your specified timeframe. You could do it as soon as the following day or release all of the recordings after the event has ended.
Plan ahead
Schedule these sessions in the same room so only one place needs to be optimized for live streaming with equipment and staff. Work with your AV production partner and the venue to find the rooms with the best internet strength!
4. It Gives Your Event Content a Chance to be Edited
One of the most underrated benefits of recording content is its ability to be edited. Engineers take the raw recording and enhance the audio and video quality, sync it up with any slides (if applicable) and add details like lower thirds. There should also be custom backgrounds that match your event branding and theme.
This instantly professionalizes your content and speakers.
Professionalize Your Content
Work with your production partner to agree on what type of editing will be done and what will be most helpful to your online audience. Perhaps you'd like each session to have subtitles. If sessions are sponsored, have the sponsoring company provide a slide or video that can be shown to the audience before.
Even further, the editing engineers could put together a sizzle reel or snippets of popular sessions to be used for promotion and marketing.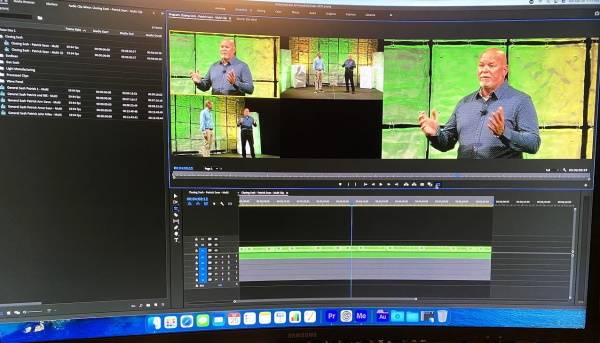 Up the production level
If you have sessions that you know are going to be really popular (or long!), consider adding an extra camera for a different angle. Engineers can weave in different looks to help create an engaging session online.
This is great for panel sessions or content that you plan to use outside of event replays. Depending on how the conference and equipment is set up, you may be able to move a camera from a breakout room into the general session room to achieve this look.
5. Your Online Audience Can Watch Anytime, Anywhere
 Of course, having your content on demand means your audience can consume what content they want when they want to. This was the original goal for recording content, made popular by medical associations that needed to have their complex topics available to their members as they need it.
Your members benefit by having production-quality content available, often eligible for continuing education credit. And depending on the structure of your platform, there can still be opportunities to engage and interact with other members online.
Consider having one of your speakers hold a live, online Q&A after the event (think the Ask Me Anything format).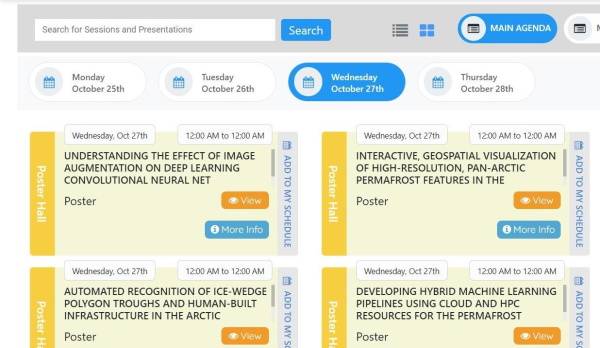 How to Create Netflix for Meetings
Your content needs to be available in a safe but easily accessible place. Work with your production partner to create a secure portal where members can login to view content. As discussed above, you can break your content into tracks by topic or day and have tiered options available for purchasing and viewing content.
Talk to your speakers
Make sure your speakers are aware and okay with their presentations being accessible. All speakers should sign a speaker release form acknowledging their content will be available for a specified amount of time. If needed, you can have options like audio only if the presenter is more comfortable with that.
Make On Demand Content Work For You
On demand recordings were previously only used by a small section of the meetings industry, specifically medical conferences. But now it's become a strategic tool to lowering production budgets while also producing new revenue streams.
We've been recording and streaming event content for meetings for over 30 years. If you'd like to discuss the best on demand recording solutions for you, give Image Audiovisuals a call today!