Denver Gold Group's 2021 Gold Forum Americas
Denver Gold Group (DGG) connected experts across the globe with a unique and exciting hybrid event format at the beautiful Broadmoor hotel.
We brought our expertise to this event by managing the various vendors DGG selected to complete their hybrid meeting.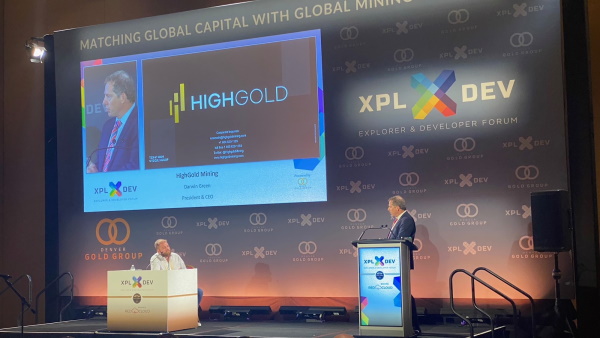 FAST FACTS
• 4 days of keynotes and multi-track breakouts
• Managed the in-person production and live streaming
• Each session could accommodate an in-person, remote, or a pre-recorded presenter
• Designed custom 17' x 30' branded stretch shape backgrounds for the breakout rooms
• Distributed 6 isolated feeds into one room for simultaneous breakout room streaming
• ImageAV served as the "glue" that connected different hybrid vendors together
Tim Wood
Executive Director, Denver Gold Group
Many thanks to the whole team. This was a hyper complex event with a lot of brand new moving parts that could have gone catastrophically wrong.
Image came alongside to be a partner to DGG rather than just another vendor submitting an invoice. The willingness to be flexible and accommodating was greatly appreciated.
We look forward to renewing for 2022, and achieving the highest standards of engineering and production excellence with that event which we expect to return to nearly normal attendance.
Finding the Right Hybrid Partner 
The Hybrid "Glue"
2021 was the year of the hybrid meeting. Denver Gold Group was hosting their first at the Broadmoor hotel, complete with four days of keynotes and multi-track breakouts. Hybrid brings additional complexity with the amount of vendors and coordination needed to execute the event. Image Audiovisuals stepped up to be the "glue" that held the vendors – and the meeting – together.
We took over coordination efforts and served as the main point of contact for other vendors, everything from the third-party virtual platform to headphone rentals. This took the communication and stress off Denver Gold's plate and allowed them to focus on executing a new event format.
Designing for In-Person and Online Audiences
Because people were watching in-person and online, the set needed to be captivating to meet the needs of both audiences. We supplied each session room with a custom 17' x 30' frame wrapped in stretch fabric printed with Denver Gold Group graphics, creating a branded, high impact feel.
Each session also had the right technology tools to accommodate an in-person, remote, or a pre-recorded presentation. This flexibility allowed a wider range of speakers to participate, truly making it a global event.
Game-Changing Technology
Our favorite feature was the All Session Presentation Theater, which had six massive 16' x 9' high-definition screens with multi-channel audio options. Attendees could watch live streamed content from each concurrent session simultaneously. They could tune into any of the audio feeds to hear presenters.
By working so closely together to meet audience expectations, we had the opportunity to truly become an extension of the Denver Gold team. Our partnership resulted in a game-changing technical achievement that created an energetic and engaging experience for both in-person and virtual attendees.