Outdoor Event Technology is a key piece to planning for summer events. The warmer months open possibilities to new venues and meeting formats; it's a refreshing alternative to holding meetings indoors. They do, however, require some extra planning and likely some extra budget. We've outlined the top considerations for outdoor event tech as you plan your next summer meeting!
It Starts with Power
Unlike most indoor event venues, power can be hard to come by, and distributing power to the locations that need it often requires much more infrastructure than an indoor space does. We'll typically bring a generator onsite to ensure enough dedicated power for the production tent. We're always mindful of the placement to avoid excess noise.
The Right Video Solution
Projectors and projection screens are typically not an option when planning for outdoor event technology unless your event takes place after sundown. High-end projectors can produce incredibly bright images but are no match for the sun!
The most viable choice for outdoor video displays are direct-view LED walls. This is the same technology you see in outdoor stadiums for video and graphics display. LED display panels are bright enough to view in direct sunlight and can have amazing contrast and clarity.
There are a few caveats, the biggest being the cost. They also require much more power than projectors do and the minimum distance for a good size wall is about fifty feet. All that said, it's the only true way to guarantee video outside during the day.
We have seen situations where groups can get away with regular TVs if there is a sheltered area. Depending on the air flow, you may consider adding sides to the tent to block out excess sunlight and position the TVs to be in front of the sun, so they don't take the brunt of the light.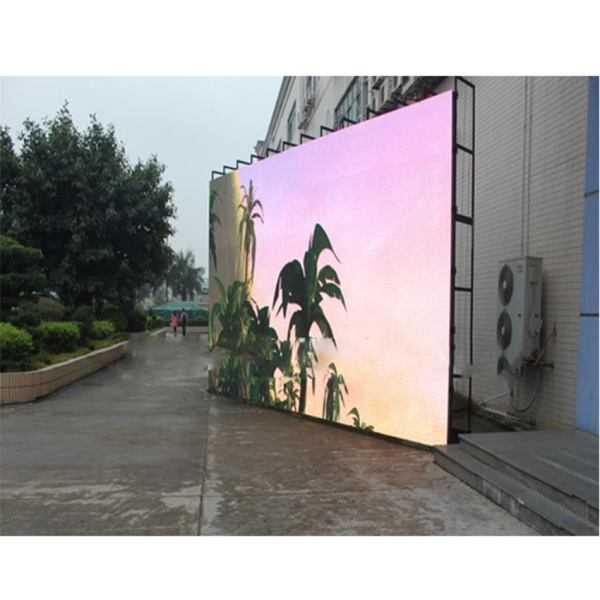 For events where access to video is important, the safest and most inexpensive way to ensure high video quality is to host the event close to sundown. This opens up your options again to things like projectors and TVs.
Weather
Unlike indoor venues, in the great outdoors we are, indeed, at the mercy of Mother Nature. Rain, wind, hail, cold and snow have brought events to a screeching halt and sent participants running for shelter! Plan for contingencies whenever possible, like an indoor space that can be pressed into service if needed. Research when an area is likely to get storms - sometimes, the morning hours can be less prone to weather events than late afternoon is.
Any outdoor event technology exposed to the elements should be covered if bad weather decides to visit.
Other Considerations
If your event is held at night, be sure you have a handle on any local sound ordinances. Most outdoor venues should have this information readily available.
And work with your audio visual company to find the best place for the production tent in advance of setting the rest of the event area. It'll be important for them to plan their outdoor event tech needs if the tent will need to be on soft ground. They'll need to know if they'll need to do any leveling to support the heavy AV equipment.
Having a meeting – or even part of it – outdoors is such a great experience for attendees. Especially in the warm summer months, outdoor venues offer an exciting alternative to the ballroom.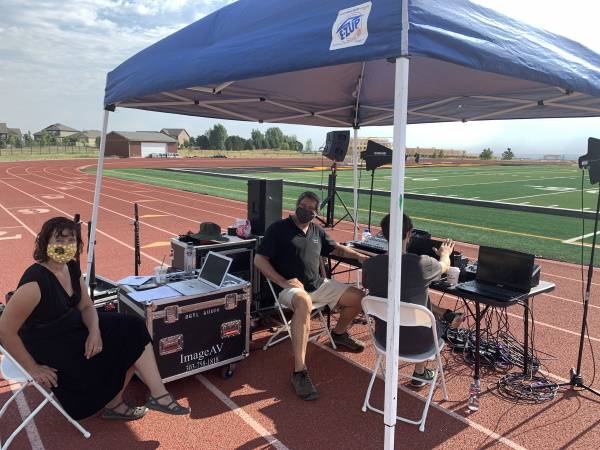 Master Outdoor Event Technology
While it does take some extra planning, a good AV partner will work through a checklist to make sure plenty of contingencies are in place and bring the right outdoor event technology to make your meeting successful.
We partner with venues across Colorado that offer outdoor spaces like the Denver Zoo, Wings Over the Rockies, and Beaver Run Resort.
Reach out for a consultation on how our av services can make your outdoor (or indoor!) event a hit.
Make Your Outdoor Meeting a Success