As 2019 comes to a close, we look ahead to the new decade with five of the top trends we believe will have a big impact for 2020 and beyond.
1. Recording and Webcasting Conferences - Content is King!
One trend we saw gain traction throughout 2019 was the high-definition digital recording of every session in a conference to be viewed later as on demand webcasts. By recording the content presented on the screen as a video combined with the presenter's voice, this process is a fraction of the cost of recording with video cameras and doesn't require dedicated technicians in each room.
These sessions can then be "virtually attended" by anyone who has access rights using any device with a web browser. Large conference meeting planners are no longer viewing these recording services as a cost item, instead it's a revenue-generating opportunity for the organization.
The biggest benefit to recording content is the opportunity to educate a larger base of your community and fulfill your organization's educational mission and values. By allowing your community to consume your content in different ways, whether its onsite at the conference, live online through streaming, or on-demand on their own time, you increase the benefit to your community.
Recording and distributing your content creates opportunities to reach different audiences such as members who can't attend conferences in person or the up-and-coming millennial members who may prefer to participate digitally. Live streaming and recording also serve as a great way for people to "try before they buy", giving them a chance to get a taste of the experience and hopefully increasing their likelihood of attending in person next year.
These services can also generate an entire new channel for sponsorships and branding opportunities as this content gives your conference "legs", often months and sometimes years after your conference concludes. Use a service provider that gives you e-commerce and onsite sales options, allowing you the control over how your content is distributed.
Our word of advice: do your homework! Take time to understand the process through demos and referrals. An average-sized 3-day conference could generate 2,000 individual webcasts. Lost or mislabeled recordings, technology issues, lack of backup systems, inaudible speakers and poor-quality content can quickly damage your event's reputation. Check out the eAttend Global demo and e-commerce options.
Conference App Based Event Programs
The event app space continues to grow rapidly as planners see the benefits and ROI at each conference. The app allows conference managers to efficiently share conference updates and foster networking across attendees. Most apps will include the schedule, speaker and session profiles, the floor plan, and a list of attendees.  More sophisticated and customizable apps can also help in securing sponsorships through additional opportunities to reach attendees throughout the conference.
"Today's meetings should require all attendees have the program app because it enhances their overall experience," says Dave 'Mac' McGuire, our Senior Production Manager, "it gets rid of long registration lines and can provide real-time attendee feedback on sessions via social media while generating conference buzz. Some meetings even use their app as part of team building activities and for polling."
Where we feel planners are missing the greatest app opportunity is taking time to understand the vast amount of analytics the app provides. Which speaker profiles and topics are attendees viewing the most? How many times was the venue map accessed? Was the layout of the conference easy for people to navigate? What were the most popular sessions, and at what times were the most messages sent? Drawing insights from raw data will shape the way future conferences are planned and executed.
Now, with the increase in app companies to choose from, how do you find what's right for your event? A few things to ask potential app providers:
Can you have multiple app editors? This ensures the completion and upkeep of the conference information is not left in just one person's hands
Do you have the ability to personalize the app content? Creating a unique experience is essential for your app to resonate with your members.
What are the customer support options before the event and onsite?
Can you send attendees push notifications? Can you target a subset at a time?
How much is the app reliant on a strong Wi-Fi signal? What happens if there is spotty Wi-Fi at the venue and hundreds of people trying to access the app at once?
Is the app compliant? Be sure the company you're working with is fully versed in understanding privacy policies around customer data.
Sustainable Events 
Another trend we love to see becoming more prominent in the planning and execution of events is the focus on green and sustainable initiatives. You're likely well aware of the benefits of making your conference environmentally friendly including overall environmental health and added branding as a more ethically conscious company. But what are conferences actually doing to accomplish these goals?
There are of course the solutions that immediately come to mind like having recycling and composting cans located next to all trash cans and eliminating single-use plastics and water bottles. You should also encourage exhibitors to eliminate onsite giveaways or make sure the items can be used during the conference like notebooks and pens (bonus points if they're made from recycled material!).
But what about the destination of the conference itself? Is the city investing in a sustainable future? Is your venue a LEED certified building? How far is the venue from major airports? Are you keeping in mind the walkability of the convention center district?
We know this can be an overwhelming priority to take on. Where do you start?! Organizations and associations that have been successful in adopting sustainable measures start by making incremental changes. Focus on low-hanging fruit, re-work event policies, and build each year to make your annual conference greener than the last.
More Dynamic Sets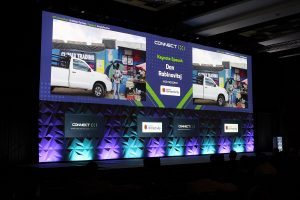 Gone are the days of a large screen and pipe and drape – your attendees want the wow factor! "Sets are so important for setting the theme of a conference," says Simon Melser, our Director of Business Development. We had a lot of fun this year across the country putting on some incredible displays, and here are some of our favorite themes.
Use non-traditional surfaces to project visuals and lights on. We love incorporating Modular Backdrops into our set. These unique three-dimensional set design panels add personality to the stage and enhance the conference logo and branding.
Digital banners make sets pop through their versatility to host content. Each panel can have different content or a series can be projected across each banner. Melser says "for our latest PLUS conference we took 16:9 aspect ratio screens and flipped them vertically. It made for an elegant and different look." It's one of the best ways to integrate show themes into the set design.
Never underestimate the power of a bold center screen. These sets create a cinematic element that still have the flexibility of projecting multiple content.
Our favorite set trend going into 2020 is the use of projection mapping. It adds an entirely new dimension to the venue and the crowd reaction is amazing. We mapped the inside of a tent for the Denver Zoo gala to look like the outdoors; how real does that night sky look?
Gamification
We're sure you've heard about gamification becoming prominent at events, but what is exactly is it and how do you use it? Gamification has made its way around a number of industries, take for example the fitness industry. Most of us wear trackable technology on our wrists that show how many steps we've taken, our heart rate, and how long we exercise each day. The likes of FitBit and the Apple Watch have turned fitness into a game where we share our "score" and compete against others.
"Engaging attendees to actively participate is gaining popularity and is a great idea to foster an emotional connection," notes Sid Curtis, Chief Creative Officer of Broad Strokes Creative. Games provide instant feedback, immersion opportunities and, when done correctly, make attendees feel like they are part of something larger than themselves. We all love a challenge with some friendly competition!
The real benefit of gamification is the tie of event goals to audience behavior. What do you want your attendees to do? If it's increasing social media traffic, award points for sharing photos or using the conference hashtag. If you're looking for audience participation have attendees earn points by checking in to sessions or sharing questions for speakers through your conference app.
Need an idea? "Selfie scavenger hunts," says Curtis. "A lot of organizations use them to make sure attendees visit exhibitors and sponsors so they feel their investment was worth it. They usually have a prize associated with them and in my experience, people tend to really get into them." Just be sure to put some time and money into the incentives so attendees feel rewarded for engaging in the activities. It could be discounts to future events, food vouchers or special gift bags collected from sponsors.
There are a lot of companies and providers that specialize in this area – a few to check out are Catchbox, SCANVenger Hunt, and Everwall.
Image Audiovisuals is a nationwide production partner for live, hybrid, and virtual events. We strive to be a partner in solving problems, reducing your stress, and having some fun along the way!