We were thrilled to be back with our industry partners and friends in Las Vegas for this year's PCMA Convening Leaders Conference. From networking opportunities to exciting Keynotes to fun after-hour activities, we wanted to share some of our top takeaways from this year's event:
New Discoveries: We learned about the word, "Phygital" (physical + digital). By integrating this term into our conversations when planning events, it allows us to view and promote events and organizations as cross-channel organisms within the physical and digital worlds. Each have their strengths in allowing event organizers to recognize educational, engagement, and revenue generating opportunities before, during, and after an event takes place.
Event Safety: We experienced first hand how a live event can happen, safely and to the best of it's ability, as a true 'hybrid' in the midst of a 'pandemic surge' through the integration and partnership of various event tech agencies, venues, and organizers, like JUNO, Caesars Entertainment and Caesars Forum, Executive Events, Safe Expo, PCMA, and various audio visual and production firms. From pre-screening for immunization status to socially distanced seating and food & beverage logistics or offering the flexibility to both presenters and attendees to engage within the physical or digital ('phygital') realms and find value, these efforts could become a case study for planners to learn from moving forward.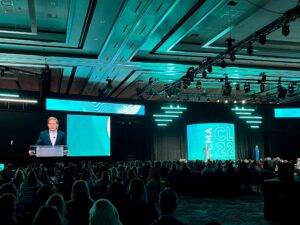 Key Takeaway: The value in meeting face-to-face was a hot topic of conversations during 1:1 and small group settings. We heard that there is true 'magic' that happens and an almost indescribable feeling that comes from being able to communicate with each other in person. While having a surplus of options to help us engage with audiences in the digital realm and it continuing to act as a contingency plan when we're hit with unexpected and unpredictable incidents, the space is just not up to par with being together in-person (yet!). As we move forward in the future, it might be best for us to start asking each other, 'how do we bring the 'magic' and feeling of meeting in-person into through digital realm through the use of technology?'
The Fun Stuff: Drai's Nightclub acted as the host venue for the closing reception this year where over 2,000 attendees gathered, feasted, mingled, and got down with DJ Warren Peace. If you're ever planning a major reception in Las Vegas and looking for a venue that appeals to all ages, races, genders, ethnicities, and like minded individuals, definitely keep this venue in mind! The staff were friendly and professional, and we saw our clients and partners teach us dance moves we didn't even know existed.
We love the PCMA conference! We learn so much each year – don't forget to read our best insights from the 2020 Convening Leaders conference.
Image Audiovisuals is a nationwide production partner for live, hybrid, and virtual events. We strive to be a partner in solving problems, reducing your stress, and having some fun along the way!
Get our insights from 2019's Convening Leaders, too!