Hybrid events call for a very deliberate onsite strategy. We outline five tips to use while working with your venue. 
1. Understand the venue's internet requirements and capabilities. In the era of the livestream, internet reliability is extremely important. Make sure you're communicating your anticipated bandwidth needs – you may need additional antennas in areas with lower coverage.
 (Planning a hybrid event? We're here to help.)
2. Décor maters. Your stage furniture, background, and lighting becomes even more important because it sets the tone for both audiences. Creating a cozy and intimate scene gives in-person attendees a sense of relaxation and comfort, and a unique stage set helps with virtual attendee attention. Think about using big plants, small couches instead of chairs, and soft lighting in your designs.
3. Make it easy for in-person attendees to communicate their comfort level with networking. Use a color-coded system on lanyards, name tags, or wrist bands to signal their preferences.
4. Consider working with your audio visual provider to have a small team record and edit short videos of the onsite experience to give virtual attendees a taste of what the event is like in-person. These can be shown during breaks, in between sessions, and used as marketing collateral for future events.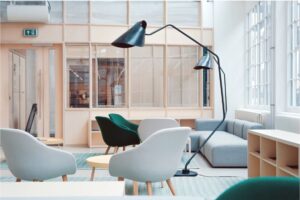 5. Depending on your team's bandwidth and comfortability, you may choose to hire an outsourced Pandemic Compliance Officer to oversee and enforce best practices for a safe in-person experience. This takes sometimes difficult and awkward conversations out of the hands of a volunteer and adds a layer of support to your safety initiatives.