Virtual meetings are taking off as organizations look for ways to reach their audience online. There's a big difference between simply executing a virtual event and executing a virtual event that will engage your audience.  We're coaching Associations and Corporations on the best ways virtual events can fit their specific needs and what it takes to put on a true virtual experience. We're sharing our best advice on the virtual process.
1. It's not just about the content, it's about the Experience
In today's new virtual world, people are tiring of the simple Zoom experience. Wow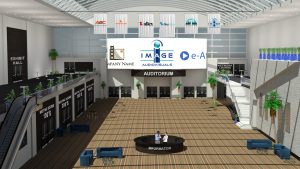 your attendees with a digital, immersive virtual platform that engages through virtual lobbies, auditoriums, and chat rooms. Coupled with professional virtual production, you'll create a lasting impression and audience for years to come.
2. Make it easy and valuable 
Your event platform needs to be as intuitive as possible, keeping in mind that there's likely a wide range of technical aptitude across your audience. The simpler you can make it for people to connect and learn, the more participation you'll see. Send around instructions several times prior to your event to let your attendees know how to access the platform's features. Make sure you have a team in place to handle any questions before and during the event.
3. Use speaker ready kits 
Up your production level by sending your presenters speaker ready kits, which typically come with an HD camera, microphone and LED light. It'll take the guesswork out of your presenters hands, leaving them to focus only on what they do best!
4. Practice, then practice some more 
Schedule speakers, announcers, panelists, emcees or anyone interacting during the virtual sessions to practice together with your audio visual Control Room. Rehearsals will get everyone familiar with the technology and audio and video settings. It will also start to build rapport among participants and make sure everyone understands the timeline of their session.
5. Spread it out 
Attention spans are much shorter in an online setting so don't overwhelm your audience by filling an entire day with content. Instead, spread out your sessions in 3-4 hour windows each day and build in plenty of short breaks. Think about mixing up the session formats – for example, a keynote followed by a live panel discussion with Q&A – to keep your audience watching and engaged.
6. Rethink your presentation style 
Presenters need to understand that the audience has changed; there is no longer a captive setting. You have to assume that the listeners will most likely be multi-tasking or paying attention less than they would in an in-person setting. Presentation styles need to adjust to fit these new realities. Slides will become much more important – they'll need to be visually stimulating and more text-heavy, so if a listener tunes back in during the middle of a slide they can still get the information they need. Presenters will also need to be more animated; smiling, engaging voices will go a long way.
7. Get to know your Technical Director 
The most important person to the success of your Virtual Event is your Technical Director. He or she will manage the entire event from start to finish, making sure everything stays on schedule in the building and recording phase and oversees the live timeline during your event. Spend some time working with your Director to make sure you're on the same page about the objectives and hot buttons, and how everything will come together.
8. Promote! Promote! Promote! 
Planners can get so caught up in working out the virtual details that they spend less time on what matters most – getting your audience to the table. Even the best virtual event won't mean much if there's no one there to see it! As you evaluate virtual partners, make sure you choose one that will handle as many details as possible, from scheduling and recording sessions, to support prior to and during the event so you can focus on other things. Once you decide to go virtual, start to lay out a marketing campaign with periodic email blasts introducing the format, speakers and sponsors. Send physical gift bags to attendees with items like mouse pads, headphones and food delivery vouchers.
9. Virtual isn't just for conferences
You don't have to forfeit the rest of your organization's social calendar. We've worked with groups taking everything from award dinners to board member interviews virtual. Rethink the way you view your other events and see how they can translate in a virtual setting.
10. Add an emcee 
Show flow and cohesiveness has never been more vital to your event, especially if you're planning on live streaming different speakers to your audience. An experienced emcee can keep your group energized, facilitate a connection between the speakers and audience, and most importantly can jump in if anyone experiences the dreaded technical issue!