IgNS 2021 Back Together Again!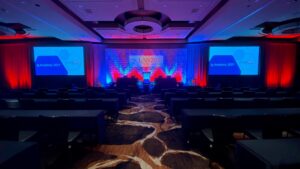 IgNS 2021 was a four-day live event
with virtual components
Each day had 1 General Session with multiple breakouts – content was streamed live from all the rooms onto their conference platform
Facilitated presentations were given in-person and virtually with seamless live Q&A from both in-person and virtual audiences increasing engagement rates!  
The eye-catching set design utilized a Ripple Wall from Modular Backdrops and gray drape to better reflect the event's colors
Events are extra special when you get to partner with great people! Thanks to the IgNS team, Kinsley Meetings, and our favorite emcee Carolyn Strauss for bringing the fun to Vegas!
We have a passion for partnering with our clients to design the right conference technology and format to meet the needs of their audience, wherever they are!
We'd love to share our thoughts on how we can do the same for you!